In Plasma 5.8 we will see a few changes in the OpenGL compositor which are worth a blog post.
Debug information
The new KWin debug console gained a new tab for OpenGL information. This shows information comparable to what we know from glxinfo/es2_info. It shows the information gathered from the OpenGL library (version, renderer, etc.) and all the available extensions. This is intended to be useful when for whatever reason glxinfo is not working and one needs to know exactly which extensions are available.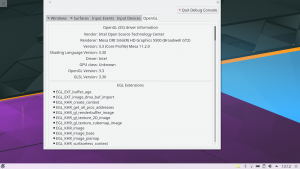 As you can see in the screenshot: KWin also learned to add decorations around "internal" windows on Wayland. Which means the debug console can now be freely resized and moved around.
Support for llvmpipe
With Plasma 5.8 we finally allow OpenGL compositing through the llvmpipe driver. So far KWin fall back to XRender based compositing when the OpenGL driver uses software emulation. We thought that with XRender based compositing one gets better results than with software emulation. In this release we re-evaluated the situation and came to the conclusion that it doesn't make sense to continue blocking llvmpipe driver. Due to QtQuick KWin will render parts of its user interface through llvmpipe anyway and also Plasma will render completely through llvmpipe. Thus most of the system is going through that driver. If the system is usable enough for Plasma, it will also be sufficient for KWin's compositing.
Related to that many of the reasons to not use llvmpipe by default are going away. For example we didn't want virtual machines to render through llvmpipe, but today also KVM can do accelerated OpenGL through virgl driver. Similar the embedded systems also provide working drivers nowadays, if we think of raspberry pi or odroid – they all can do OpenGL and we don't have the risk of them going on llvmpipe which would result in a very bad experience.
Last but not least there is the question whether XRender or QPainter compositing is a better solution than llvmpipe. And there I'm not so sure anymore. For XRender it's possible that the xorg modesetting driver is used in combination with glamor. In that case it would also use llvmpipe. So nothing gained by forcing to XRender.
But still it's possible that using llvmpipe compositing will result in high CPU usage if KWin has to use it. The solution to this problem is to deactivate what we know to be expensive – all these effects which are not available on XRender because we know it to be too expensive. We don't want blur effect on software emulation and neither wobbly windows. So we are now working on disabling the effects if we are on software emulation. For this we introduced a way to disable all animations in KWin and a lot of effects are already adjusted. This might also be a handy new features for users who don't want any animations at all, but still want the compositor enabled.
Last but not least using llvmpipe also exposes performance problems which we normally don't see with a fast GPU. And as a result we were already able to improve various parts of our rendering stack which will benefit all users – independently of whether llvmpipe is used or not.
Removal of GLX/EGL selection
A change which also got backported to a 5.7 bugfix release is the removal of the selection of GLX or EGL in the compositor settings. Unfortunately EGL is still not a good enough option on X11. Way too often we saw bug reports about rendering being broken and it was caused by using EGL. We decided that it doesn't make sense to expose a config option which in most cases will result in the users systems being broken. So on X11 the default will stay GLX, while on Wayland the only option is EGL. Of course on X11 the option can still be set manually be editing the config file or by specifying the environment variable to pick EGL or to pick OpenGL ES 2.
Removal of unredirect fullscreen windows
Unredirection of fullscreen windows has been a kind of blue-headed step child in KWin's compositing infrastructure for a long time. It's a feature not loved by the developers, not properly integrated, but you have to support it. For those not knowing the feature: it excludes an area from compositing and let's the fullscreen window be rendered the normal way in X11 (unredirect). The idea is that you get slightly better performance if you bypass the compositor.
The functionality was never fully integrated into the compositor. It was way too easy to break out of the condition (e.g. a tooltip), but at the same time effects which should break it, had no way to do it (e.g. Present Windows should either not activate or end it). The weirdest oddity of the feature is that we had to hard disable it for all Intel drivers due to crashes. We don't know whether this is still the case but after having had such a bad experience with it in the past, we decided to never turn it on again. Which means it's a feature not even supported by all devices.
We developers did not spent much time on the feature as we think it doesn't make much sense as KWin has a better infrastructure in place: blocking compositing. Applications are allowed to specify that compositing should be blocked. This results in KWin shutting down the compositor, freeing all resource related to it (e.g. destroying the OpenGL context), so all power to the running game. As the compositor is shutting down, you don't have weird interactions like tooltips jumping out or effects not working properly.
There is a standardized way for applications to request this and we see that many games and applications (e.g. Kodi) make use of it. This is the preferred way in our opinion. Given that this mode is fully supported, we decided to remove unredirect fullscreen windows from KWin's compositor. This streamlines our implementation and gives us one feature to concentrate on and make sure that it works exactly as our users need it. On Wayland the architecture looks different: there is no such thing like unredirect fullscreen, but we can ideally just pass the buffer to the DRM device. The idea is that we do the best optimized way whenever possible.
Support for render devices
Our virtual rendering platform in KWin/Wayland gained a new feature. Like the normal DRM device it now uses udev to find all possible devices and will default to a render device (e.g. /dev/dri/renderD128) if present. If not present it will look for a card device created through the vgem driver. This is a change intended mostly for the use on build.kde.org so that we can properly test OpenGL compositing, but is also a handy feature for running KWin in the cloud on systems with "real" GPUs. If no GPU is present one can easily make KWin pick the virtual device.
Support for restarting the compositor on Wayland
Initially KWin did not support restarting the compositor or even switching the backend on Wayland. But of course we need to support that as well. The OpenGL driver might do a graphics reset after which our infrastructure wants to reinit the complete setup. Thus KWin needed to learn how to restart the OpenGL compositor on Wayland, which will be fully supported in Plasma 5.8.